Colin Farrell CGC Comic Autograph Send-In Option
About This Product
Pre-Order Shipping: 3rd Qtr, 2023

A leading man in blockbusters and independent films since the 2000s, Colin Farrell has received various awards and nominations, including two Golden Globe Awards and a nomination for an Academy Award. The year 2022 was key for Farrell. He played Penguin in the superhero film The Batman, and gained acclaim for his roles in the science fiction drama After Yang, the survival film Thirteen Lives, and McDonagh's drama The Banshees of Inisherin. For playing a naïve Irishman in the lattermost, he won the Volpi Cup for Best Actor and another Golden Globe, in addition to a nomination for the Academy Award for Best Actor. Farrell stars in the upcoming HBO Max series, The Penguin, as it follows the transformation of Oswald Cobblepot from a disfigured nobody to a noted Gotham gangster. Time magazine named him one of the 100 most influential people in the world in 2023. Signing is scheduled to take place late Summer with a limited number of autographs, character names, personalizations and quotes available.  Don't miss this truly rare opportunity to add this leading star to your collection today!

Purchase this CGC Comic Send-In Option to have your Comic personally autographed by Colin Farrell during his upcoming signing session with Celebrity Authentics and submitted directly to CGC for grading and encapsulation (price includes CGC grading and encapsulation fees).  Your CGC comic will ship back to you from Celebrity Authentics, case affixed with Celebrity Authentics serial-numbered Authentication hologram and includes Celebrity Authentics Certificate of Authenticity. Please note:
-
For multiple autographs, you will need to purchase multiple Send-In Options.
- A personalization and/or character name cannot be included under a Quote and must be purchased separately.


- Price includes free return shipping on orders placed within the USA.
- When sending in your item, please include a note referencing your order number and add a post-it note with any color or purchased Add-On request.
- We are tentatively setting the deadline date of September 15th, 2023, for us to receive your item/s for this signing.  This deadline date is subject to change.  Please note, once we receive your item, we cannot return it for any reason as it will be in storage, securely stored for the signing.  Please include a copy of your Purchase Receipt with your item/s and ship to:
c/o CF

Marshalls Creek, PA  18335

USA

Above address is for all parcels being shipped to us by USPS, UPS, FedEx or DHL. A Celebrity Authentics Certificate of Authenticity will be provided featuring a general picture of Colin from the signing.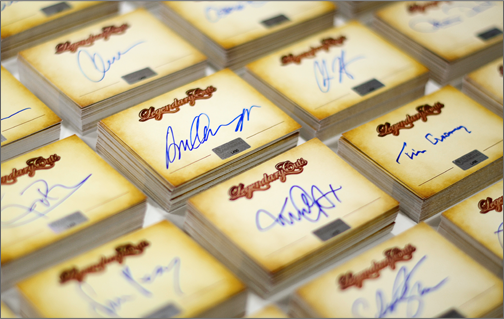 Legendary Cuts - our gift to you on qualifying orders of $200 or more.
Learn More
Receive 10% Off!
Sign up today to get email updates and receive a coupon code for 10% off your next order.
Sign Up