Danny Glover Deluxe Autograph Send-In Option
About This Product
Pre-Order Shipping: 3rd Qtr, 2023

Celebrity Authentics is pleased to present fan favorite actor Danny Glover for an upcoming autograph signing!  Danny has enjoyed success in numerous projects, including The Color Purple, To Sleep With Anger, Predator 2, Angels in The Outfield and the Lethal Weapon franchise.  He will be completing a limited number of inscriptions including personalizations, character name and quotes (up to five total words).  In addition to the product we are offering, an option is also available to submit your personal item/s to be autographed by Mr. Glover. Signing is scheduled to take place Summer, 2023 with a limited number of autographs, character names, personalizations and quotes available.

Purchase this Deluxe Send-In Option to have your Oversized item (prop replica items, statues over 15", screen used items, similar items) personally autographed by Danny Glover during his upcoming signing session with Celebrity Authentics.  Your signed item will ship affixed with Celebrity Authentics serial-numbered Authentication hologram and include Celebrity Authentics Certificate of Authenticity. Please note:
-
For multiple autographs, you will need to purchase multiple Send-In Options.
- Please note that a personalization and/or character name cannot be included under a Quote and must be purchased separately.


- Price includes free return shipping on orders placed within the USA.
- When sending in your item, please include a note referencing your order number and add a post-it note with any color or purchased Add-On request.
- We are tentatively setting the deadline date of August 25, 2023, for us to receive your item/s for this signing.  This deadline date is subject to change.  Please note, once we receive your item, we cannot return it for any reason as it will be in storage, securely stored for the signing.  Please include a copy of your Purchase Receipt with your item/s and ship to:
c/o DG

Marshalls Creek, PA  18335

USA

Above address is for all parcels being shipped to us by USPS, UPS or FedEx. A Celebrity Authentics Certificate of Authenticity will be provided featuring a general picture of Bradley from the signing.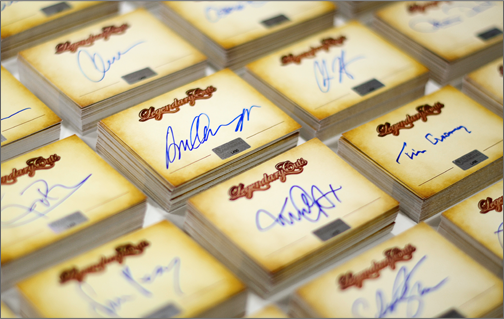 Legendary Cuts - our gift to you on qualifying orders of $200 or more.
Learn More
Receive 10% Off!
Sign up today to get email updates and receive a coupon code for 10% off your next order.
Sign Up