Kevin Bacon Autographed 2011 X-Men First Class Sebastian Shaw 8x10 Scene 2 Photo Pre-Order
About This Product
Pre-Order Shipping: 1st Qtr, 2024
We are pleased to present our newest autograph exclusive, film star Kevin Bacon for his first career signing. Known for his leading man and character roles, Kevin has received numerous accolades, including a Golden Globe Award, a Screen Actors Guild Award, and a nomination for a Primetime Emmy Award. His projects include Friday the 13th, Footloose, Tremors, Flatliners, A Few Good Men, Appolo 13, Wild Thing, Hollow Man, Mystic River, The Woodsman, X-Men: First Class, Patriots Day and many more. We will be accepting a limited number of Send-In items to be personally hand-signed by Kevin. This is a smaller signing so signatures are limited. Character names, personalizations and quotes are also available. Orders are now being accepted on a first come, first served basis with signing scheduled for Jan/Feb, 2024.
Pre-Order this 2011 X-Men First Class Sebastian Shaw 8x10 Scene 2 Photo to be personally autographed in silver by Kevin Bacon during his upcoming, exclusive signing with Celebrity Authentics. In the 1960s, superpowered humans Charles Xavier and Erik Lensherr work together to find others like them, but Erik's vengeful pursuit of an ambitious mutant who ruined his life causes a schism to divide them. Ships affixed with Celebrity Authentics serial-numbered Authentication hologram and includes Celebrity Authentics Certificate of Authenticity featuring pictures of Kevin signing photo.  Additional options include: Personalization (example: "To Mary"); Character Name (ie: "Sebastian Shaw") and Inscription/Quote up to 5 total words. 

Please note that a personalization and/or character name cannot be included under a Quote and must be purchased separately.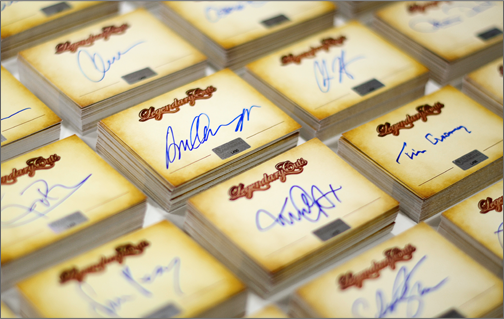 Legendary Cuts - our gift to you on qualifying orders of $200 or more.
Learn More
Receive 10% Off!
Sign up today to get email updates and receive a coupon code for 10% off your next order.
Sign Up