Authenticate Your item
The heart of Celebrity Authentics lies in our authenticity. We believe authentication should go beyond a series of numbers on a hologram. It should serve as a living record of verifiable proof that shares the date, location and photographic evidence of the day your item became a treasured autographed piece. We are pleased to offer you the tools to learn about the signing history of your item and give you 100% peace of mind that you have a genuine hand-signed signature collectable from Celebrity Authentics.
Hologram Anatomy
Each hologram features a prefix letter and a unique number that is used to link your collectable to it's specific signing information.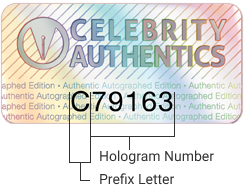 To View Authentication Details
1
Select your hologram's prefix letter (i.e.: C, L, S or A).
2
Enter your hologram number.
3
Click Authenticate to view complete signing details.
Select Prefix
C
A
B
C
D
E
F
G
H
I
J
K
L
M
N
O
P
Q
R
S
T
U
V
W
X
Y
Z
Select Prefix