At Celebrity Authentics we're fans. Fans of the people that boldly go, who travel at lightspeed and aren't afraid to cross the streams.
One fake autograph sparked the beginning of a revolutionary company. A course was then set to provide fans and collectors worldwide with access to hand-signed, genuine autographed editions by their favorite celebrities. When it comes to autograph authenticity, we do not sell opinions - nor do we guess. At Celebrity Authentics, we witness every autograph we authenticate. If we did not witness it being signed by the talent, then we will not offer it - no exceptions.
Our autograph signing sessions are arranged and scheduled with the talent through their agent, manager or representative. We do not use autograph chasers that approach talent on the street, airport or similar. Our signings are conducted in a professional setting that can accommodate our large inventory of extraordinary collectibles and provide quality signatures.
We are passionate about authenticity and the safeguarding of our product against fraud to maintain the integrity of each autograph. View our Authenticity Process and discover how we have pioneered new systems and technologies to fight forgeries and ensure every item you receive from Celebrity Authentics is 100% genuine.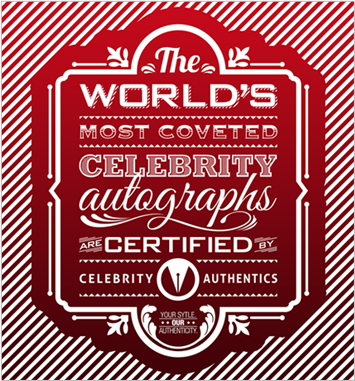 Not all autographs are created equal. The FBI reported that over 90% of all A-List Actors autographs sold in the marketplace are forgeries. To maintain the integrity of each autograph, we developed and implemented a serial-numbered authentication system and Certificate of Authenticity that includes an industry first - a picture of the talent signing. According to the FBI's research, this is the most effective way to ensure authenticity while effectively eliminating forgeries in the marketplace.