Evangeline Lilly Autographed The Hobbit Tauriel Elven Bow and Arrow Prop Replica
About This Product
This rare Elven Bow and Arrow from The Hobbit have been personally hand-signed by Tauriel herself, Evangeline Lilly during her signing with Celebrity Authentics. Tauriel is a Silvan Elf and daughter of Mirkwood. A favorite of King Thranduil and Captain of his Woodland Guard, she is an expert fighter and extremely fast and agile in battle. Her signature weapons are twin daggers and a bow. The bow is a deadly accurate traditional recurve design used by the Woodland Guard, ornately carved with leaf motifs and hoof-shaped string nocks. United® Cutlery's replica is crafted of steel-reinforced polyresin, with precise detailing and colors to exactly match the movie prop. It is presented with a poly stone wall mount featuring a graphic motif of Tauriel. Bow: 48" overall; Arrow: 42" overall. Ships affixed with Celebrity Authentics serial-numbered and tamper evident Authentication Hologram and includes Celebrity Authentics Certificate of Authenticity featuring picture of Evangeline signing knives. 
Terms & Condition of Sale: You must be at least 18 years of age to purchase any item from this site even if the item is not a weapon. Some laws may require that you be at least 21 years of age to receive the item. Knowledge of local, state, federal and international laws and/or statutes is the responsibility of the buyer. By purchasing, the buyer expressly warrants that he/she is in compliance with all applicable Federal, State, and Local laws and regulations regarding the purchase, ownership, and use of the item. It shall be the buyer's responsibility to comply with all Federal, State and Local laws governing the sale of any items listed, illustrated, or sold. The buyer expressly agrees to indemnify and hold harmless Celebrity Authentics for all claims resulting directly or indirectly from the purchase, ownership, or use of the item in violation of applicable Federal, State, and Local laws or regulations. All swords must be handled with extreme care.   This item is sold as a collectible and is not intended for use.  We are not responsible for any injuries, death, or property damage caused directly or indirectly through the use or misuse of this item.
Product Specifications
| | |
| --- | --- |
| Dimensions: | 48" long |
| Weight: | 8 lbs. |
| Material: | Resin, Poly Stone |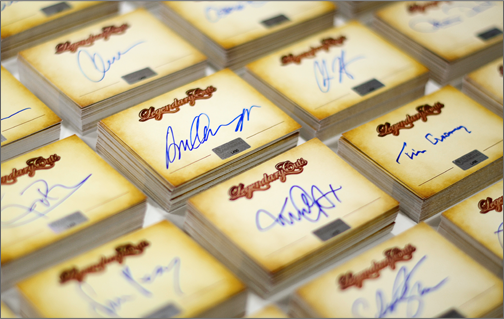 Legendary Cuts - our gift to you on qualifying orders of $200 or more.
Learn More
Receive 10% Off!
Sign up today to get email updates and receive a coupon code for 10% off your next order.
Sign Up